Video will be available soon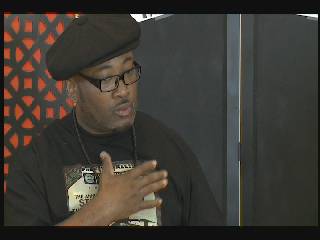 Chairman Fred Hampton, Jr. talks with Steven Sapp, Mildred Ruiz-Sapp and William Ruiz (a.k.a. Ninja) of UNVERSES just before he returns to Chicago from seeing UNIVERSES' "Party People" at the Oregon Shakespeare Festival. Mark Brown is on Video; Clive Bean Wa Afrika is on Audio. Carolina Morones is assisting. Sharifa Johka is the Party People Archival Project coordinator. Erin Michelle Washington, Party people Salon Project and Community Organizer, is also present.
Click here and listen to our conversation after the show:
Fred Hampton Jr on Party People
Click here
for
video
footage of Chairman Fred Hampton, Jr. meeting Mr. Skip Andrews (one of the lawyers for Chairman Fred Hampton, Sr.) for the first time as well as talking with the cast of UNIVERSES.