25 April 2008
Poetic Theater Ensemble Enthralls Audiences on Six-Nation Tour
For "Universes" quartet, travel offers illuminating cultural exchange
The members of Universes are William "Ninja" Ruiz, Mildred Ruiz, Gamal Abdel-Chasten and Steven Sapp. (© H.N. Hershey)
By Lauren Monsen Staff Writer
Washington -- What happens when a New York-based poetic theater ensemble, whose unique brand of fusion art combines elements of hip-hop, blues, jazz, gospel and Spanish bolero, brings its act to six nations as disparate as Morocco, Tunisia, Turkey, Romania, the Netherlands and the United Kingdom?
According to members of the ensemble -- a quartet that calls itself Universes -- the result is a richly rewarding cultural exchange that highlights the power of music to bridge differences among people who might otherwise be separated by language, custom and national boundaries.
From January 26 to February 23, 2008, the four members of Universes -- all poets, playwrights, singers and actors -- traveled overseas as part of the U.S. Department of State's "Rhythm Road: American Music Abroad" program, which introduced the group to audiences across six countries spanning North Africa and Europe.
Now back in their native New York, Universes founding members Gamal Abdel-Chasten, Steven Sapp and Mildred Ruiz recently spoke with
America.gov
about their creative efforts at home and on tour (the group's fourth member, William "Ninja" Ruiz -- younger brother of Mildred -- was unavailable).
DIVERSITY AT HOME AND ABROAD
The quartet's U.S. performances generally attract a diverse crowd -- good preparation for touring abroad, said Abdel-Chasten. "We're not surprised anymore" at the demographic mix of a typical Universes audience, he added. But that wasn't always the case. "We started off in the poetry scene, so we started off with a poetry crowd," Sapp recalled.
Over the group's 11-year history, its repertoire evolved to embrace music and drama, as well. Because of this, "our audience has expanded greatly -- it's not just a younger urban crowd," said Sapp. "These days, you can see an elderly Jewish grandmother and a hip-hop kid in the same crowd" at a Universes show.
Universes performs original material, some of which is based on current events (such as the group's emotionally charged "New Orleans," a piece that dramatizes the tragic aftermath of Hurricane Katrina in starkly personal terms). Other pieces -- like the group's rousing spiritual "Mahalia," a tribute to gospel singer Mahalia Jackson -- may draw inspiration from an iconic musical figure, or from any intriguing idea.
Motifs can range widely, as evidenced by "Freedom Suite," a collection of pieces structured around the theme of freedom; "Don't Front," which examines how to walk and talk in tough inner-city neighborhoods; and "Junior Calling," a jazz piece focused on an inmate writing a poem from prison.
Authorship is shared evenly among the quartet's members. "We all write," explained Abdel-Chasten. "We all came together as writers and poets. It's a collaborative effort."
LEARNING THE LOCAL TUNE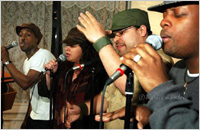 Universes performs before a live audience. (© Marlis Momber)
Strong voices, compelling narratives and a dynamic stage presence have earned the group a broad base of fan support in New York and elsewhere. As the group began its overseas tour, the challenge was to establish a similar rapport with a foreign audience. Despite the quartet's initial worries about being able to communicate across a language divide, it soon became apparent that the performers' appeal was -- well, universal (or very nearly so). Audiences, especially in countries that have had limited exposure to eclectic urban theater, poetry and music, "were very excited," said Abdel-Chasten. "To them, it was a new art form."
The excitement was mutual. "That was the most gratifying part of the trip: the interaction with our audience," said Sapp. People responded enthusiastically to Universes' live performances, but "they also wanted to ask us about America," he said. Moreover, said Abdel-Chasten, "we got to work with local artists" in host countries. "We jammed with them; we did a few writing workshops," he said. "A few times we had shows where we incorporated local artists onstage with us."
During their travels, the New Yorkers were eager to learn about the cultural traditions they encountered. "In Morocco, they had some instruments we'd never seen and some music we'd never heard of," said Abdel-Chasten. "Once you hear the music and connect on a human level, it brings everyone together." In fact, "one of our drivers in Morocco was a singer," said Sapp. "He began singing, and Mildred asked him to teach her the song. She learned the lyrics phonetically, and we performed it at our next event. The audience went crazy. It just really opened things up."
From that moment onward, the ensemble made a point of learning -- and performing -- a local folk song in each new country on the tour, whenever possible. Adding some local flavor to each show "helped people relate to us," said Abdel-Chasten.
Ruiz agreed that the opportunity for cultural exchange was invaluable. "We enjoyed learning local songs," she said, "and seeing people from other cultures interpret our music."
Abdel-Chasten had vivid memories of an event in Romania, where Universes performed in front of a packed crowd. "The audience included kids from a workshop we had conducted, but there were lots of older people, too," he said. "At first, we were apprehensive about how we would be received, but that night was amazing -- it was magical. Mildred did a gospel piece called 'Mahalia,' and suddenly, everyone was in church. It was incredible. The kids loved it, and they opened up the rest of the audience to us. People lined up afterward to get our autographs."
He also was deeply impressed by the Islamic traditions of the three Muslim countries on the group's itinerary. "I was raised as a nonpracticing Muslim," said Abdel-Chasten, "and I connected with what I saw in those places. I prayed at the King Hassan II Mosque in Morocco, and at the Blue Mosque in Turkey."
For Sapp, "the most striking impression of our trip was finding myself in a different world --
their
world. It was interesting to see things from a different perspective." Asked whether the group was able to change any perceptions about Americans, he said: "I know we did, in some cases. We had a conversation with students in Tunisia. I think they were surprised at how openly we spoke about certain things -- about where we're from, what we've experienced."
DON'T START A REVOLUTION
Although the group was traveling under the auspices of the U.S. State Department, there were no restrictions on anyone's speech, said Sapp. "U.S. officials told us we could say anything we wanted," he recalled. "The only advice they gave us was: 'Don't start a revolution.'"
If the quartet harbors any revolutionary tendencies, they are channeled into a restless creative drive that redefines "what theater is and who it speaks to," in the words of the group's members. By evoking a contemporary urban landscape infused with both anger and hope -- and a strong dose of street humor -- "we try to portray the experiences of the community: the man or woman on the ground," said Ruiz.
"It's really about craft," Sapp concluded. "We may come across as free-wheeling, but we've worked hard at what we do, and we hope that comes across."
The artists said they would welcome the chance to revisit the countries they toured and enlarge their circle of friends there. "Our audience is diverse, wherever we go," said Abdel-Chasten. "We'd like to think that everyone takes away something different from our performances."